eNPure...Your Single Source Solution for:
Membrane Contactors Designed for Ammonia Removal Solutions Utilizing TransMembrane ChemSorption (TMCS)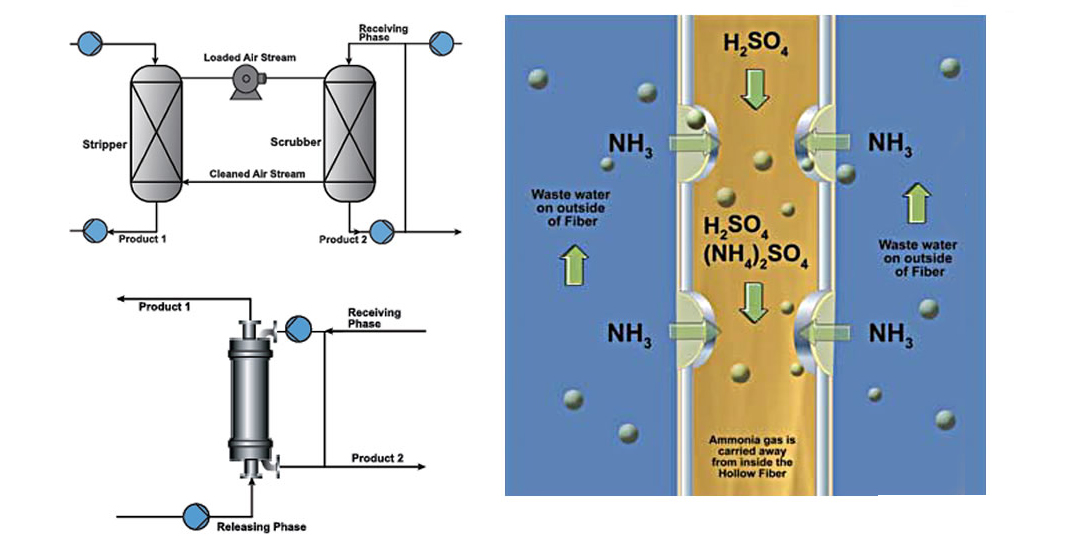 Capture and Reuse Ammonia with Membrane Contactors. Liqui-Cel® Membrane Contactors achieve low dissolved gas concentrations and operate with less chemicals than other degassing methods.


INCORPORATING LIQUI-CEL® MEMBRANE CONTACTORS MAY REDUCE COMPLIANCE COSTS ASSOCIATED WITH AMMONIA ABATEMENT.

APPLICATIONS INCLUDE:
Fertilizer Waste Water
Power

Refining

Chemical Processing

Semi-conductor Wafe Washing
Unbalanced waste streams with high levels of ammonia can overwhelm the denitrification capabilities of most biological treatment plants, leading to ineffective treatment of both ammonia and other contaminants and resulting in non-compliance with stringent discharge limits.
TransMembrane ChemSorption technology offers an effective alternative for selectively removing ammonia from waste streams to meet discharge limits or to allow downstream processes to function within their design limits.

An integrated cleaning and recovery system that incorporates Liqui-Cel® Membrane Contactors for TransMembrane ChemSorption (TMCS) can reduce compliance costs associated with ammonia abatement from wastewater with minimal maintenance, and with lower capital and operating expenses than typical stripper-scrubber-oxidizer technologies.
ADVANTAGES OF TMCS VS. TRADITIONAL
STRIPPER-SCRUBBER SYSTEMS

SMALL SIZE - 10X THE SURFACE AREA OF CONVENTIONAL DEGASIFIERS

COMPACT MODULAR DESIGN

LOW ENERGY DEMAND

SINGLE STEP, IN-LINE PROCESSING

NO AIR POLLUTION

HIGH CONCENTRATION AND QUALITY OF RECOVERABLE AMMONIA

EASILY EXPANDABLE

MODULAR DESIGN OFFERS FLEXIBILITY FOR
MEETING FUTURE CAPACITY OR TIGHTER SPECIFICATION REQUIREMENTS
LOWER INSTALLATION AND OPERATING COSTS


Enpure's Ammonia removal experts can save you operating and capital expenses utilizing advanced and proprietary process design.
TransMembrane ChemSorption (TMCS) Process Description
Feedwater, contaminated with ammonia and with a pH greater than 10, is introduced to the shellside (outside) of the microporous, hydrophobic, hollow fiber in the membrane contactor. A 36%- 45% sulfuric acid solution flows counter-current to the feedwater on the lumenside (or inside) of the hollow fiber at approximately one-third the flow of the feedwater. The gaseous NH3 comes out of solution, transfers through the membrane wall, and then reacts with the acid to form a diluted ammonium sulfate solution. The sulfuric acid / ammonium sulfate solution is recirculated until the acid is spent, at which time the ammonia is available for recovery or for disposal.