eNPure...Your Single Source Solution for:
Direct Osmosis - High Salinity In place Reverse Osmosis Membrane Cleaning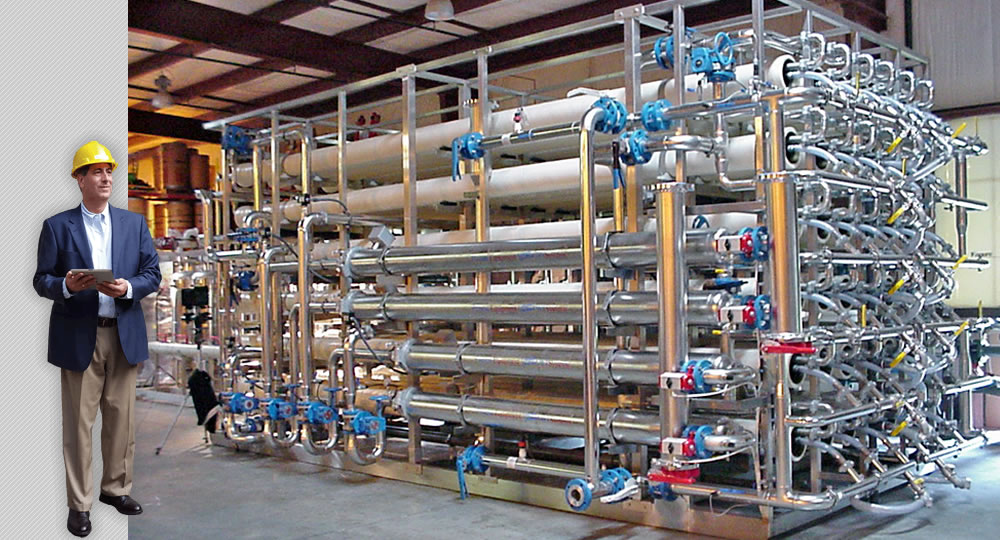 Eliminate biofouling and inorganic fouling with in place regular backwashing of Reverse Osmosis membranes. Increase Reverse Osmosis Recovery Rates and Achieve Exceptional Payback in Industrial Applications...Often Between 18 and 36 Months.


DIRECT OSMOSIS-HIGH SALINITY MEMBRANE CLEANING IS ABSOLUTELY SAFE FOR REVERSE OSMOSIS AND NANO-FILTRATION MEMBRANES.
IT IS APPROVED BY ALL LEADING RO MEMBRANE MANUFACTURERS.

APPLICATIONS
Surface waters with variable turbidity
Ground waters with high fouling tendencies
eNPure utilizes exclusive patented (US Patent 7658852*) continuous cleaning technology that can be easily retrofitted and installed.
This cleaning involves daily automatic membrane backwash and bacteria sterilization with periodic injections of high salinity table salt solutions into the feed stream. This process removes bio-films and other foulants, as well as reducing scaling of the Reverse Osmosis membrane, all without stopping the high pressure pumps.
BENEFITS
QUICK PAYBACK, GENERALLY
BETWEEN 18 TO 30 MONTHS

HIGH SALINITY SOLUTION DEHYDRATES CYTOPLASM
MEMBRANE WHICH IS FATAL TO BACTERIA,
ALGAE, & FUNGI

ELIMINATES BIOFOULING AND INORGANIC FOULING
WITH IN PLACE REGULAR BACKWASHING OF
MEMBRANES

HIGH IONIC STRENGTH OF HIGH SALINITY SOLUTION
DISSOLVES MICROCRYSTALS GROWING ON
MEMBRANE REDUCING SCALING

LENGTHENS MEMBRANE USEFUL LIFE

REDUCES MEMBRANE CLEANINGS

ELIMINATES COST AND DISPOSAL OF HARSH
CLEANING IN PLACE SOLUTIONS AND BIOCIDES


Enpure's water treatment experts can retrofit and install Direct Osmosis-High Salinity (DO-HS) in place membrane cleaning to a conventional RO System utilizing advanced and proprietary process design and engineering
How the Direct Osmosis-High Salinity In place membrane cleaning technology works:
View the video below about this technology.

In normal RO operations, feed water pump hydrostatic pressure is higher than feed water osmotic pressure, forcing permeate out through the membrane. Feed water bacteria, clay, silt, and other particles are deposited and held on the membrane by RO flow causing increased feed pressure, higher pressure drops, and more chemical cleanings. With Direct Osmosis-High Salinity cleaning, fouling is backwashed from the membranes surface within a few seconds every day without stopping the feed pump.
In the clean-in-place tank, a 25% saline solution is added with an osmotic pressure of 2800 psi. For 10 – 15 seconds, this saline solution is injected into the feed water stream. The osmotic pressure is much higher than the hydrostatic pressure of the feed water pump, reversing the osmotic flow and back washing each membrane in succession like a vacuum cleaner.
As the saline slug moves through the pressure vessel, the process changes from reverse osmosis (RO) to direct osmosis (DO) in the area of the slug, then reverts back to RO once it has passed. During DO, the permeate moves back through the membrane and into the saline water slug; local permeate up-flow provides intensive membrane backwash. The fouling is lifted from the membrane surface and is swiped out into the drain with reject water.
The fouling layer is affected by two cleaning forces simultaneously – up-flow from direct osmosis and cross flow shearing velocity. The slug not only draws water from the membrane, it also dewaters the micro-organisms exposed to the saline water. The micro-organisms affected include bacteria, algae, and fungi. Lastly, the saline slug has very high ionic strength and is able to dissolve microcrystals growing on the membranes, decreasing scaling.