eNPure...Your Single Source Solution for:
Membrane Contactors Designed for O2 Removal Solutions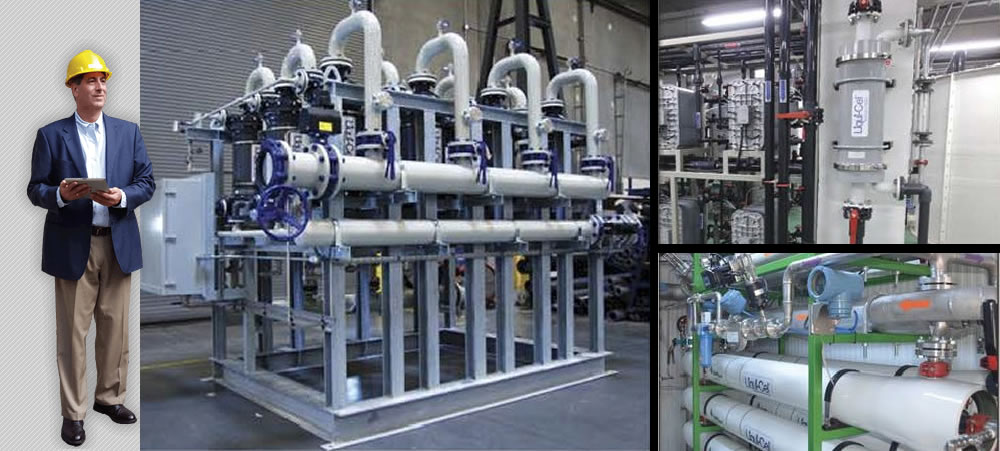 Remove O2 inline under pressure without contaminating the water with contaminates in the air. Membrane Contactors achieve low dissolved gas concentrations and operate with less chemicals to other degassing methods.


MEMBRANE CONTACTORS CONTAIN 10X THE SURFACE AREA OF CONVENTIONAL DEGASSING TOWER AND OCCUPY A MUCH SMALLER FOOTPRINT.

APPLICATIONS INCLUDE:
Power

Refining

Chemical Processing

Boiler Feedwater
Membrane contactors can remove O2 inline under pressure without contaminating the water with contaminates in the air. The membrane pore size is 0.03 um, acting as a barrier to air contamination.




BENEFITS OF MEMBRANE CONTACTORS

SMALL SIZE - 10X THE SURFACE AREA OF
CONVENTIONAL DEGASIFIERS

COMPACT SKIDS CAN FIT INSIDE OF
EXISTING BUILDINGS

FAST EQUILIBRIUM MEANS QUICK START-UPS

LOWER INSTALLATION COSTS

DIFFERENT CONTACTOR SIZES AND MATERIAL
OPTIONS PROVIDE TREMENDOUS FLEXIBILITY

WARRANTIES AVAILABLE FOR 1PPB O2 OUTLET
AND 1PPM CO2 OUTLET

EASILY EXPANDABLE

MODULAR DESIGN OFFERS FLEXIBILITY FOR MEETING
FUTURE CAPACITY OR TIGHTER SPECIFICATION
REQUIREMENTS O2, CO2 AND N2 CONTROL WITH
ONE DEVICE

TOTAL GAS CONTROL FOR QUICK RINSE
ELIMINATE VENTING OF DEAERATOR STEAM


Enpure's O2 removal experts can save you operating and capital expenses utilizing advanced and proprietary process design and engineering.
Boiler Systems
When generating steam, dissolved gas control is an integral part of the water treatment system.
Historically vacuum towers, steam deaerators, decarbonators and chemical Injection systems were common methods used to control dissolved gas in water systems. However, these methods can be much less efficient, require more maintenance and the handling of large volumes of chemicals.
Membrane Contactors can reliably achieve very low dissolved gas concentrations and operate with less chemicals compared to alternative degassing methods. Membrane contactors contain 10x the surface area of conventional degassing tower and occupy a much smaller footprint.
O2 Removal in Boiler Applications
Oxygen reacts with metals in the system and can cause pitting on the metal surfaces. Iron oxide produced during the corrosion process can promote iron deposits in the boiler. Carbon dioxide forms carbonic acid and enhances the corrosive effect of oxygen. Reducing dissolved O2 will reduce corrosion in the boiler.
O2 Removal in Power Plant Applications
As steam demands increase and plants are modified to be operated at design capacity and above, conventional steam deaerators can become overloaded and may not have the capacity to meet the higher water flow demands.
Membrane Contactors can be used to supplement the steam deaerator at a significantly lower cost than installing an additional steam deaerator.
Membrane Contactors can be used to replace the steam deaerator. In these designs, the water is degassed using membrane contactors, then pre-heated prior to the boiler using a latent heat recovery system. These plants realize significant energy savings by eliminating the steam used in the deaerator.
Membrane contactors can also be used to remove dissolved oxygen from HRSG make up water during startup. This can reduce the anhydrous ammonia loss during the startup cycle when the steam deaerator (DA) vents are opened to vent the large amounts of dissolved oxygen in the cold make up water.