eNPure...Your Single Source Solution for:
The Xenon  Controller and Software Platform.
The Heart of a Web-Connected Lean Building Management System that Integrates Building Data and Systems in Real Time.

No License Fees Required.


The Xenon Controller and Software Platform provides simple control and monitoring for small buildings. With its built-in BACnet and Modbus capability, it accepts data from any existing system, device or meter, acting as your central building management system.
Its web-based software platform is built for Building Management from the ground up.  The software is designed for the control of HVAC, lighting, energy, and facility management.
Control Capabilities
Building Management Operations
Control of Plant Operations
Control of HVAC, Fans and Lighting
Cooling Tower Operations, stand-alone
Control of Hydraulics and Irrigation Systems
Conceived as a stand-alone, Single System Controller, the Xenon Controller possesses the heart of a web-connected lean Building Management System.  Its core controller is pre-loaded with software that is capable of managing, not only single systems, such as cooling tower operations, but also the complete HVAC, energy, and facility management operations of any building.  It supports, BACnet and Modbus protocols, and will integrate with existing building management systems.
Operational data is tracked and archived to provide the basis of powerful analytics to improve building performance.  Data is stored locally and is available 24/7 via the web at your desktop or at your fingertips.  Customizable dashboards and reporting allows the Building Manager owner, and employees to visualize, monitor, control, and report on building operations in real time.  All data and information can be accessed via a web browser or mobile app.


Xenon Control Capabilities...

Control of Building management operations...
including HVAC, fans, hydraulic systems, lighting control, and central plant.

Meters:  Any type of utility or monitoring meter can be connected to the Xenon system, including water, electricity, gas, temperature, and air quality.

BACnet Direct Controller:  Any controller can be directly connected to the Xenon controller with complete pass through of BACnet data.
Energy Management:  Dashboards, automated reporting, and energy alarms allow or cost reduction and improved building performance.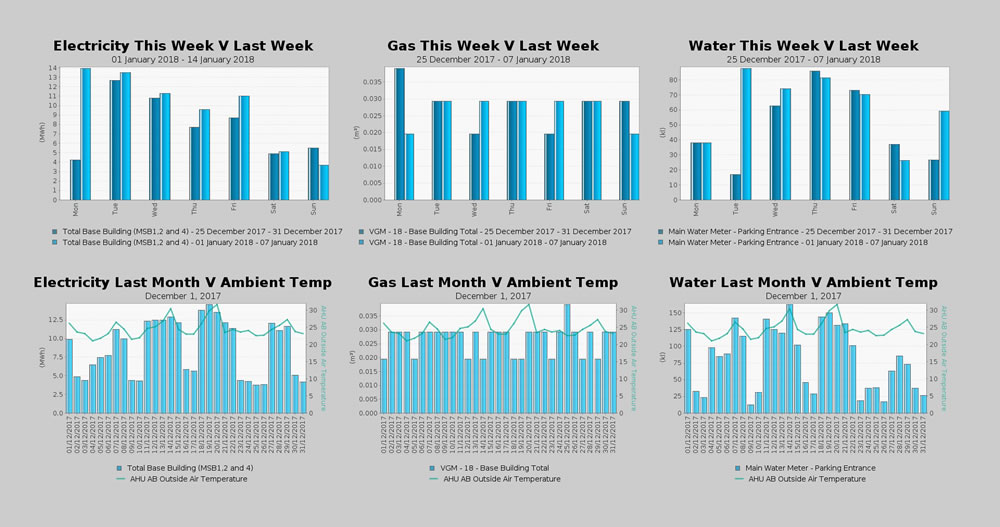 Demand Management:  Self Demand Management of electricity is just one of the many features of the Xenon Controller. Based upon user-defined setpoints, the Xenon software is capable of balancing a building's electrical demand, through the varying of heating, cooling and other needs.
Facility management:  Xenon has the capability to manage tenants with after hours A/C and utility billing, engage occupants with scrolling displays, and mobile app notifications.
Alarms and Notifications: On building and subsystem performance, requiring operator intervention.  All meters can be configured with setpoints and alarms to notify users and operators of changes that require prompt attention.  Notification can be dispatched to Desktop PCs or the mobile App.
Web-based monitoring of all building operations
Fully BACnet and Modbus compatible
All data stored locally for secure protection
Web-based programming for custom applications with drag and drop icons
Built-in report and energy management features
Supports from 10 to unlimited connected devices
Unlimited users, with access permission restrictions

Control of Cooling Tower Operations...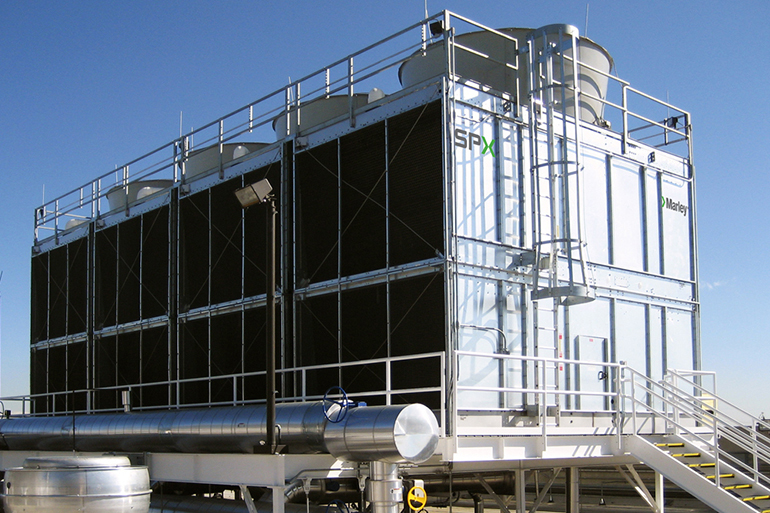 Blowdown control of circulating water based upon conductivity or pH.
Built in surge protection for controller CPU, instrumentation, and HydroFLOW™ anti-scale units.
Chemical metering of anti-scalants, corrosion inhibitors and biocides.
VFD or Lead / Lag control of cooling tower fans and pumps.

Xenon Interfaces...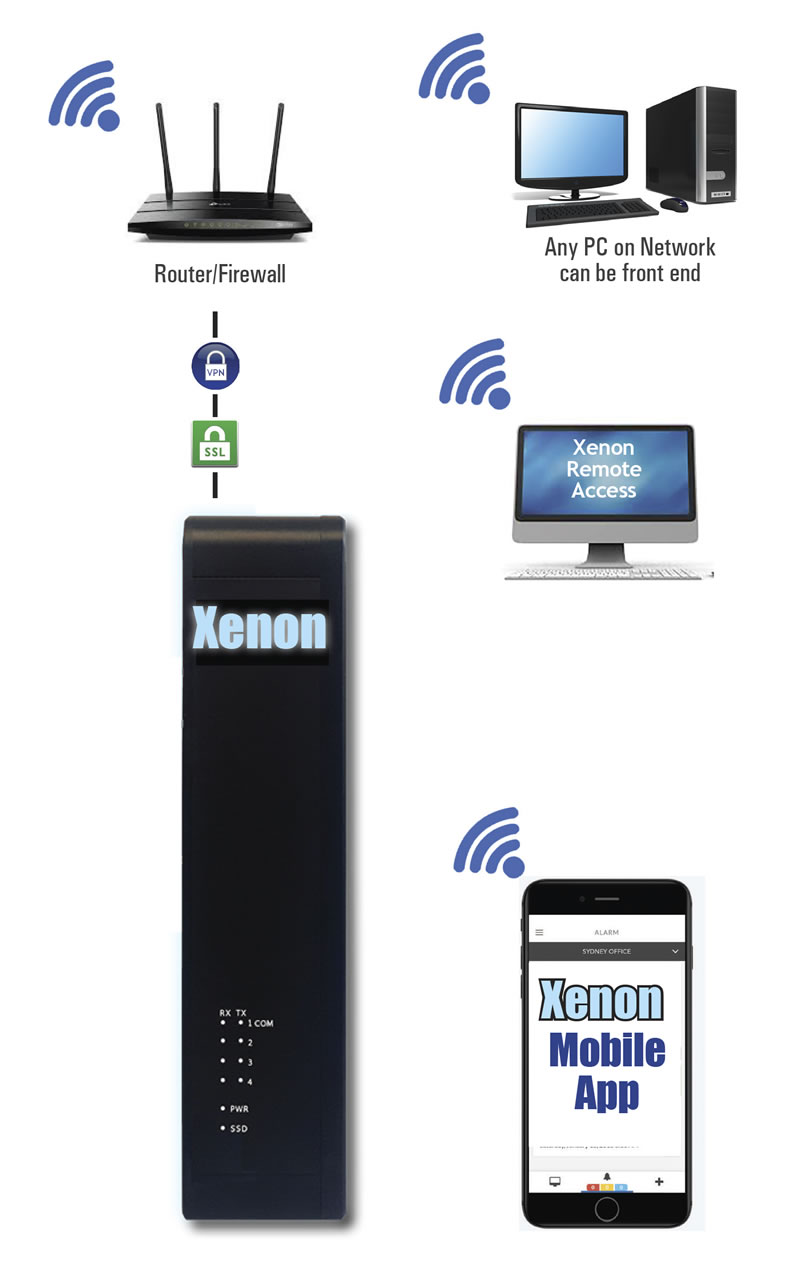 Xenon is fully deployed on the web with local control and storage of all data.  Software, Data and control setpoints are available through any Desktop PC, remote laptop, or the Mobile App with appropriate permission control and access  Alarms and notifications are pushed to all users and operators automatically.

Xenon Benefits...
Simple licensing
NO on-going fees.  Licensing is based upon the number of Xenon devices installed with each device capable of supporting from 10-100 data points.


Centralization of Building Management Systems into one common Access Point
With its built in BACnet and Modbus capability, the Xenon Controller Software Platform accepts data from other Systems, acting as the central administrative Building Management System, allowing for  a single interface.


Reporting 
Either standard or fully customizable reports are available to monitor and track building operations and performance.  Saved reports can be automatically e-mail on a regular scheduled to any user.


Notifications and Alarms
Automatic text and e-mail messaging with escalation for key employees and stakeholders.


Web-based programming
Application specific control logic is easily created and updated with drag and drop symbols.


Local data storage
Up to five years of data is stored locally on the Xenon Controller, protecting privacy and integrity from third-parties.  Optional off-site back-up is programmable.


Tenant and utility-based billing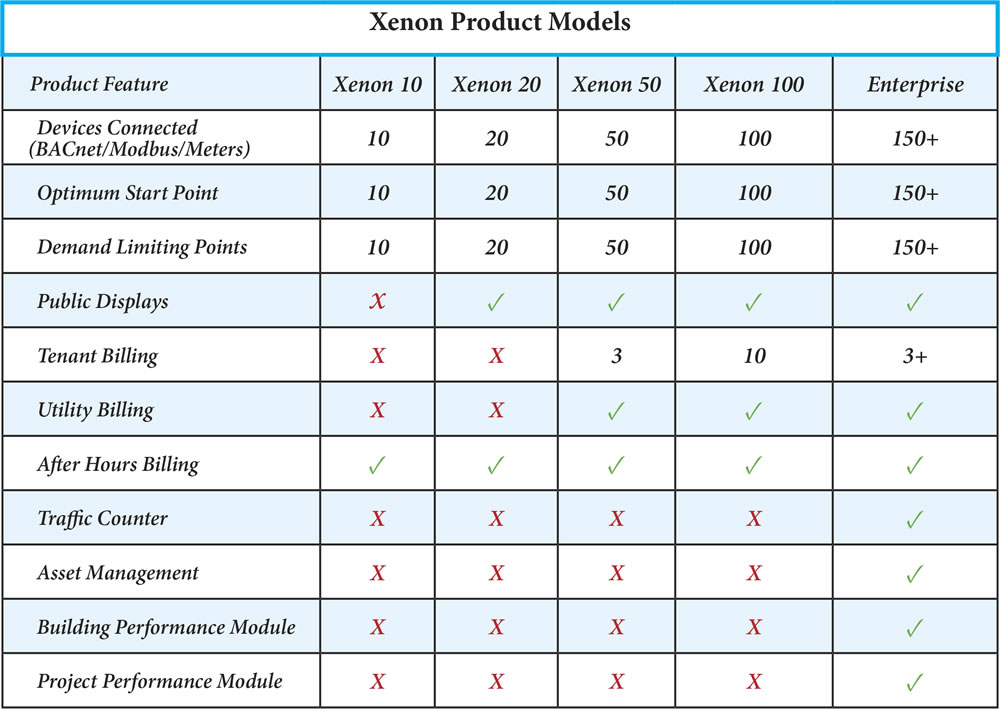 CLICK HERE to request additional information